The
Digital Thinkers Conference
is a technology, art, and design event hosted by Awwwards in the world's most vibrant cities — including New York, Amsterdam, and Tokyo. The DTC draws in trailblazing practitioners from all corners of the world for lectures and workshops, so it deserves design with the same level of innovation and prestige.
Adobe Illustrator, Photoshop, InDesign, and Premiere Pro
WORDMARK
I strove for this identity system to be as bilingual as possible; all materials*, including the logotype, are set in English and Japanese. Most type in the brand is rendered isometrically, alternating between side and top views, which creates a distinct "folding" effect present throughout the brand.
Every element of this brand is built with flexibility and modularity in mind. The logotype can be restructured in several ways to best fit its context while maintaining consistency with the rest of the system. 
ANIMATED MARK
The wordmark can be animated to incorporate both languages, simulating flashing lights to hearken to the Tokyo's history as a pioneering city in technology and design.
TYPOGRAPHY
The workhorse typeface,
Fieldwork
, includes a huge selection of alternate glyphs, including beautiful swashes that mimic Japanese typography and add nuance and texture. Fieldwork has the neutrality and readability of a monospace and the gestural elegance of a script — all packed in a modern geometric sans-serif.
Subtitles and details are set in
Novel
, an offbeat monospace with its fair share of quirky curves. Body copy is set in Mozilla's
Zilla
, a humanist slab that is equal parts edgy, readable, techy, bookish, old, and new.
Japanese type is set in
Noto
, a gothic sans that is as geometric as it gets for the language.
In this system, I use flat type at small sizes where legibility is critical and isometric type in posters and social media posts where there's more room for typographic nuance. Japanese can be written horizontally or vertically, which gives me extra leeway with which to create contrast and texture.
POSTER
English anchors this portion of the event poster, while Japanese, written both vertically and horizontally, cascades off the edges. Contrast is created between the two languages through the color and orientation of the text. This detail shot features all four typefaces. 
The full poster is 22" wide by 17" tall. Speaker profiles are given ample breathing room to aid legibility. As a whole, the poster conjures the density, complexity, and lushness of nighttime Tokyo while maintaining a simple, stripped-down design aesthetic using only typography.
NAMEBADGES
Conference name badges are bilingual as well; speakers wear a black badge, while attendees can get red, teal, or neon yellow. Text is flat in this instance to make the type readable at a glance and as large as possible. Surnames come first in Japanese, but type weights match across languages to account for differences in grammatical structure.
SOCIAL MEDIA
Instagram post concepts engage the full grid and utilize both flat and isometric type. Photos are treated with gradient map and posterize layers to create a comic book-esque cel-shaded look.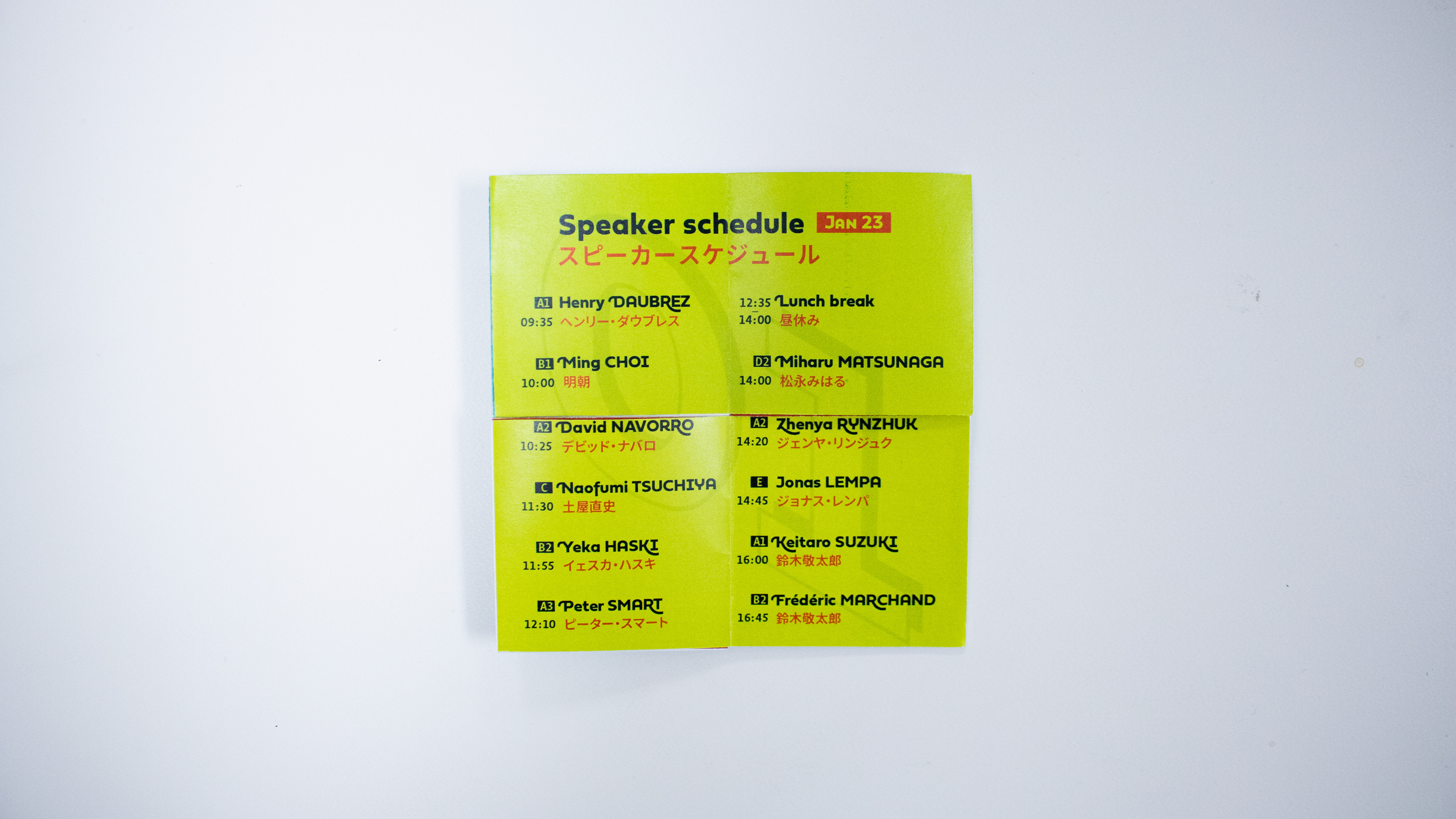 FLEXAGON MAP & SCHEDULE

Attendees can navigate the event with a compact 4x4" "flexagon" foldable brochure that contains a simple map of the conference center and a schedule of speakers.
(This part is handmade — I don't wanna hear ONE WORD about the shot looking grody)
Attendees can collect and trade appropriately dorky "trading cards" representing each speaker at the event, encouraging guests to attend future Digital Thinkers Conferences. The stats on the back could also be used to play some sort of game that I have not bothered to devise.
PROCESS BOOK
I made a short process book for this project. Check it out at the nifty purple button below.