With the guidance of Professor Ali Place, I developed a name and identity for a fictional amateur astronomy equipment company.
I've adored astronomy since I first learned about the solar system as a second grader, but I've never owned a telescope. I imagine a lot of kids across America — particularly in urban areas where light pollution renders most stars invisible — are similarly unable to seriously take up the hobby. They're missing out on a lot. Stargazing can build some very practical mathematical, spatial, and logical skills — not to mention that the grandeur and beauty of the universe can be a surreal experience.
Starspot aims to make stargazing (and related astronomical activities) more accessible, inclusive, meaningful and engaging for people of all ages by offering telescopes, stargazing journals, and sky charts all in one place.
Identity, print, illustration
Adobe Illustrator and InDesign
I developed an envelope for holding a
solar eclipse viewer
. The envelope is designed to block light from reaching and damaging the solar viewer in the weeks, months, or years leading up to the eclipse — panels on all four sides fold up to keep the viewer light-safe.
On the day of the eclipse, the envelope provides information on when, where, and how to view the eclipse so that the owner doesn't have to search for it online. The panels are designed to work well in two-page spreads regardless of which two panels are open and visible.
Additionally, two panels of the envelope are personalized. The inside of the top flap features the recipient's name, birthdate, and astrological sign, connecting their sense of self to the constant movement of the stars. The inside of another panel displays the recipient's age at the time of the eclipse that the envelope is tied to. If the solar viewer was purchased far in advance, as is intended, that panel would speak to the rarity and significance of solar eclipses.
Behind the solar viewer is the Starspot mark and slogan, "keep your head in the stars", encouraging users to keep dreaming and learning about the vast universe around them. After the eclipse has occurred, the envelope can be flattened out for display as a keepsake and a memento of the event.
For a color theory class with Professor Dylan DeWitt, I extended this identity through a large series of "trading cards" for real-life stars. The front of each card gives a brief biography of the star, as well as an approximation of the star's size; the reverse side details its spectral type and the color profile created by its unique composition of elements. 
The science here is pretty roughshod, because I'm hardly a scientist. This is meant to be an introduction to astronomical concepts for kids and hobbyists rather than a robust scientific explanation.
This guide card introduces the basic concepts discussed on each star's card.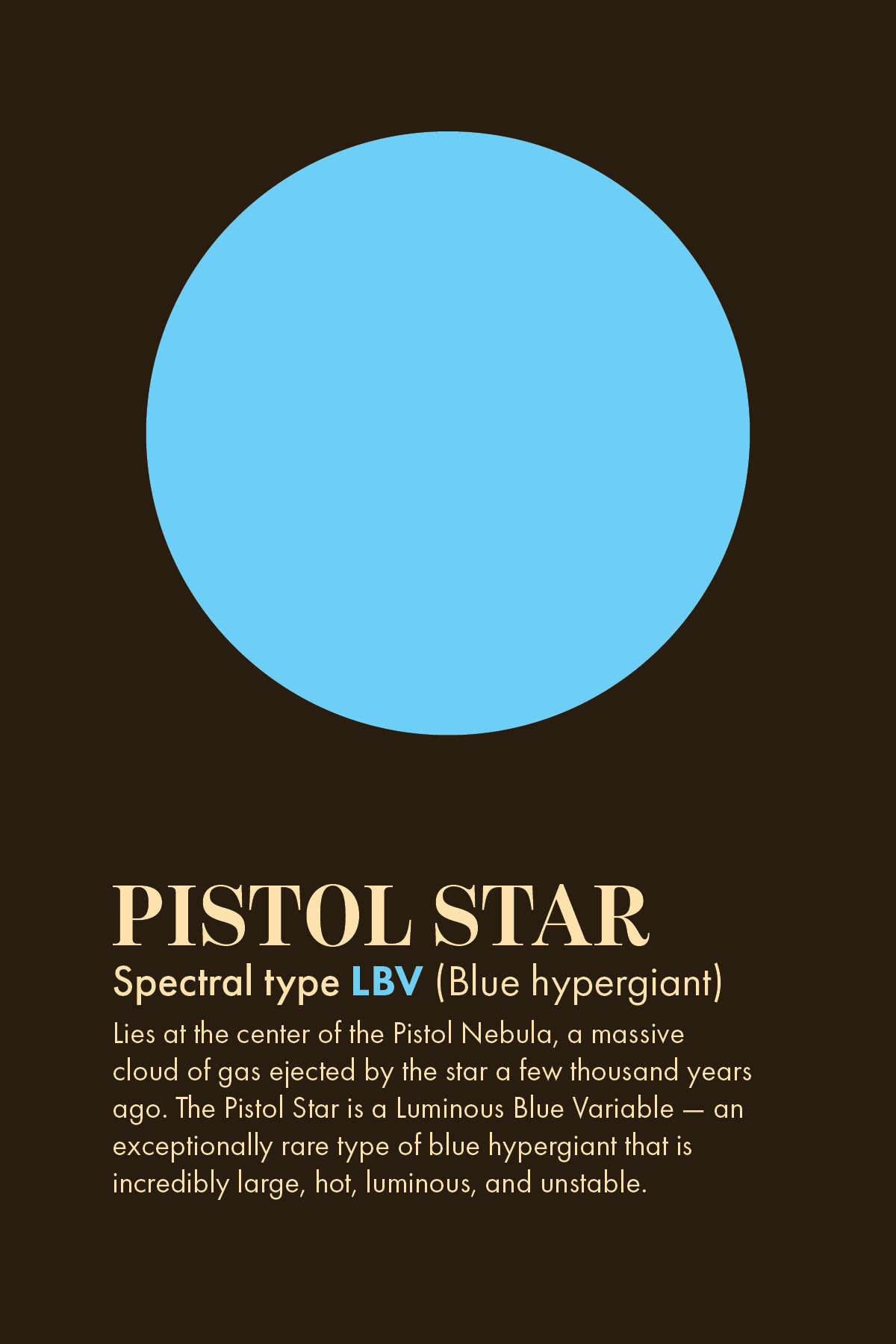 The full set comprises 25 stars of all spectral types.