North Heights Porchfest is a humble little music festival started on a whim by my neighbors in 2017. A riff on the original Porchfest (
started in Ithaca, New York in 2007
) residents of Joplin, Missouri gather for an evening of music, food, art, and community every October. I created an emblem for the event in my first identity design class with Prof. Ali Place in 2018; from there, I built out a full identity system including web, social media, and event-day materials.
EMBLEM & WORDMARK
I designed the "pick" emblem in 2018 and implemented it for the 2019 event. In 2020, I extracted the typography from the emblem to create a wordmark for use at small sizes. Today, the wordmark is the primary logo, while the emblem is used for larger-scale and commemorative purposes, like signs and merchandise.
WEBSITE
Porchfest's
website
is critical to its success — it provides general event information and a map of all the action to the public, and it serves as a central place for musicians, food trucks, artists, and volunteers to sign up for the event.
This is the original website (designed by someone else). As I understand it, it is a lightly altered Wordpress template. It was really, really bad.
This is my redesign of the website, which was first implemented in 2019. In addition to a heavy cosmetic overhaul, I migrated all the forms from a Wordpress plugin to Google Forms, allowing event organizers to more easily access response data.
I plan to redesign the website again soon, if the fates allow.
MERCH STORE
I built and manage our Square store, through which we sell event merch and process donations. In 2022, we also started a digital tipping system through Square — attendees could scan a QR code on the front of any musician's physical tip jar, which would take them to a checkout link.
STICKERS & TEMPORARY TATTOOS
I love a good sticker.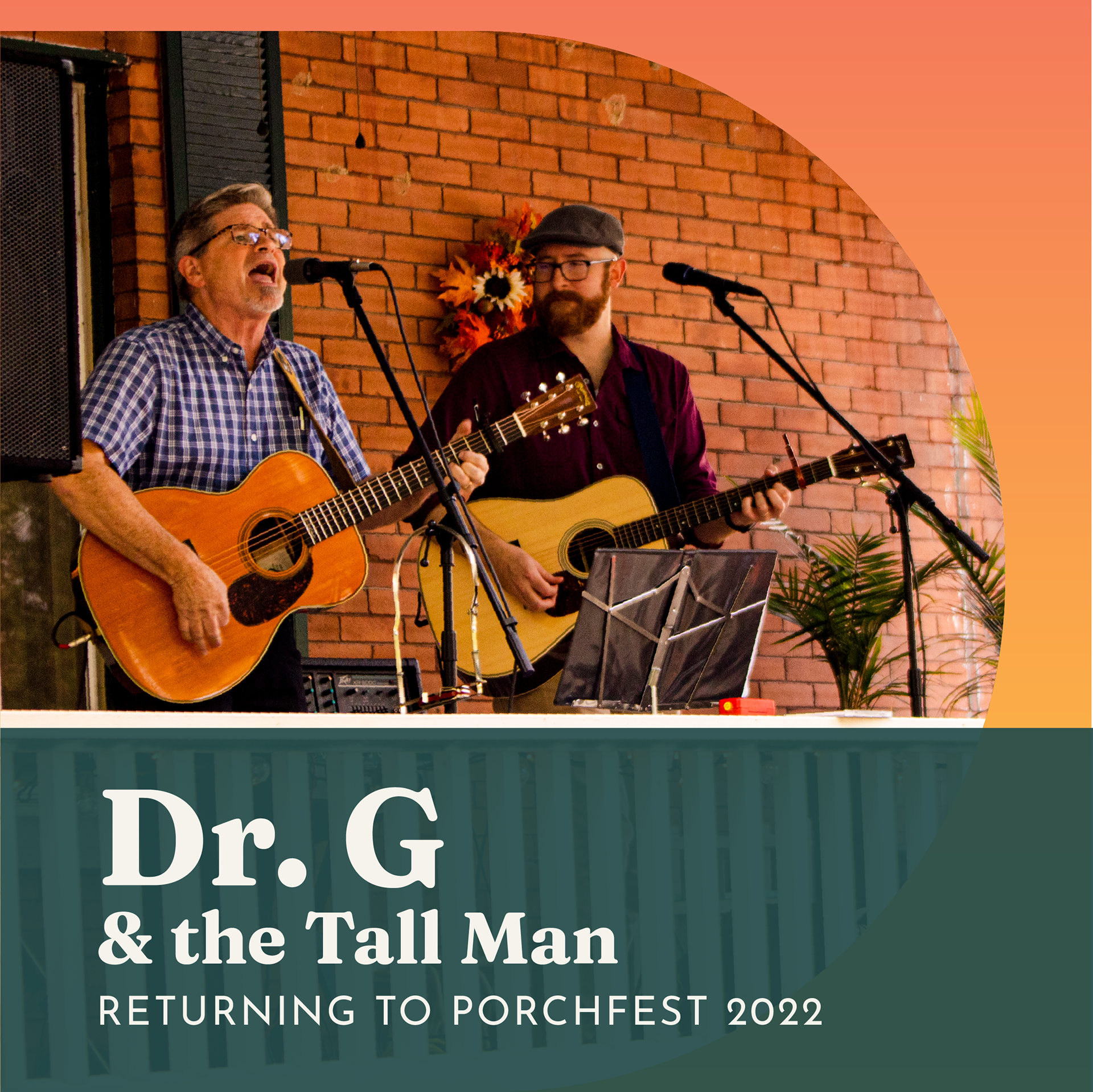 SOCIAL MEDIA CONTENT
Social media content aims to cross-promote everyone participating in the event and highlight the overarching goals of North Heights Neighborhood Group, the nonprofit that puts on the event.
MAP
The sheer complexity of an event involving 27 bands, 13 food trucks, and 30 fine artists spread across an entire neighborhood necessitates a good map. Color printing is expensive, but I have always felt that color-coding the bands by timeslot makes it much easier for attendees to figure out who's playing when.
We added a second map this year of our incredibly jam-packed "Food Truck Row".
PHOTOGRAPHY
I'm definitely an amateur photographer, but I'm gradually getting better. 2022 marked the first year I've been happy with my photos from the event. I try to get photos of every band, so typically I only have 5-10 minutes with each one. I walked over 26,000 steps (12 miles) at Porchfest this year!
I learned Lightroom and used it to edit for the first time, and that helped a lot too. Color grading is my friend.
Shot on a Canon T6i with a 55-250mm F4-5.6 telephoto lens.